World Marathon
Mark Cromie Holden / Heli Otago UIM 2013 World Jet Boat Marathon
View the full programme - CLICK HERE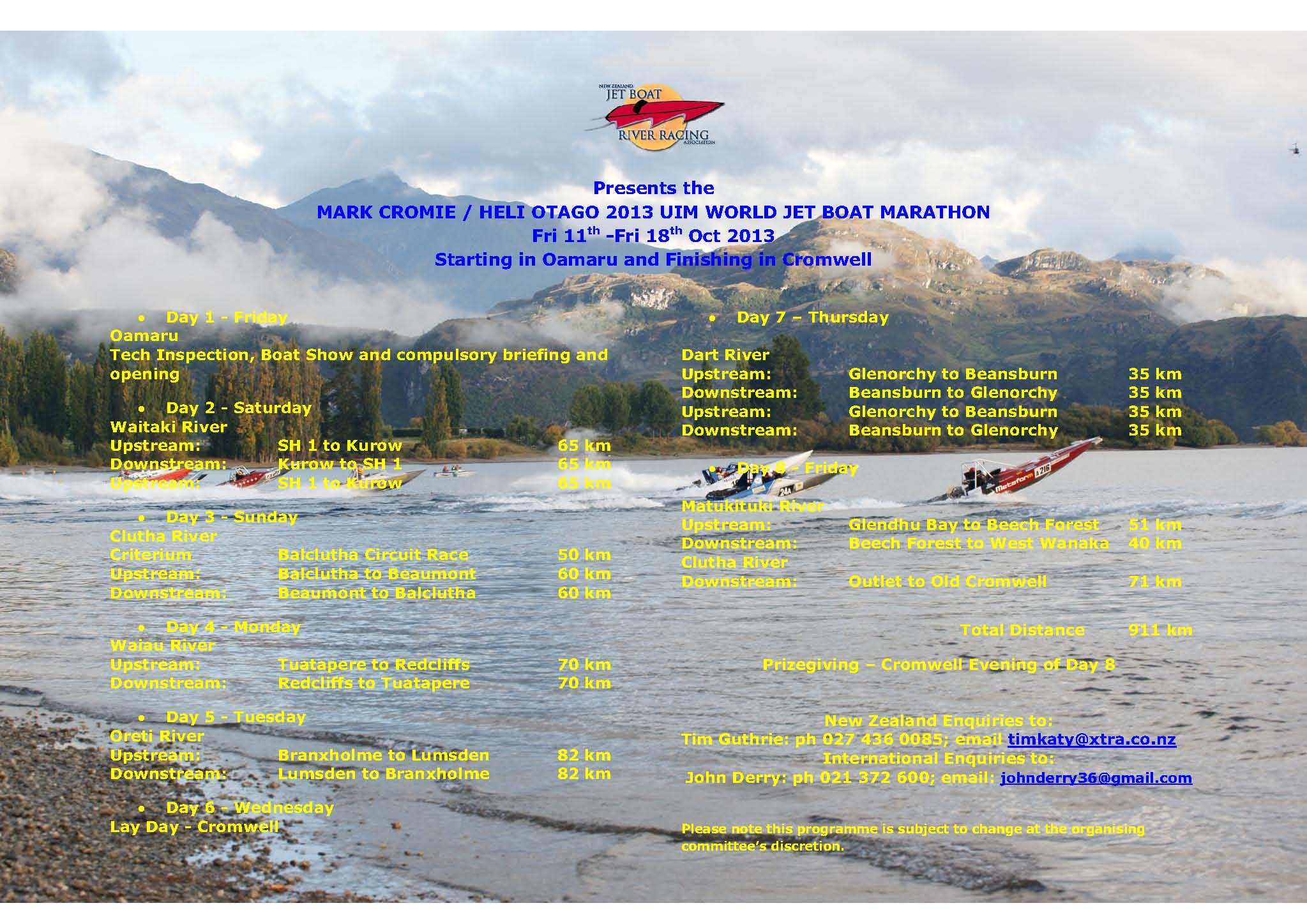 2011 Outlaw Eagle World Jet Boat Marathon Update
Final Results
North West Territories and Alberta,Canada
Go to the link below kindly provided by Outlaw eagles Forum
http://www.outlaweagle.com/forum/viewtopic.php?t=3481&sid=ee8147f3ae8c8c967f9db88293782f03
John Derry Surfaces Triumphant two days late!!
3rd In Unlimited (Behind two turbines).  4th Overall.  A commendable effort. Well done John
Well the final day of the 2011 Outlaw Eagle World Marathon was sure eventfull!
Whitecourt is where we normally do circuit races but they had huge amounts of rain over night!
We were going to launch 45miles up stream and run Down to Whitecourt but the river was so high it was looking unlikely! The boat launch was washed out but three of us managed to get out boats in before the leg was cancelled due to the police closing the road where we all were to launch! I can tell you it was a nerve racking experience trying to launch a borrowed boat in to that swollen river with trees all around us and massive trees floating down the river.
I can say it was just as well the leg was cancelled as it was found later that the river was so high at Whitecourt that the race boats would have struggled to fit under the bridge, that would have been interesting for the first boat!
We regrouped and it was decided to run a 20 mile leg up and down the Mcleod river to finish the event. The leg took little more than five minutes each way but was a great little sprint to finish the event. We started fifth overall into the last day and had to pick up about 20 seconds on the superfast B boat in front! We didn't lift the foot once in the leg for the first time and managed to pull the time back and take 4th overall and 3rd in unlimited behind the two turbines of Gord Humprys (the new world champion) and Dale whiteside! It was kinda good we got 1 2 and 3 as we are all great friends and race and party together!
It was a great event for us in a borrowed boat with no testing time or setup, a big thank you to Dale for the boat and to all the New Zealand guys that stayed around to help us, the Prestons, Bonner and the Shearings were a great help and James Murdoch who still managed a second in class for lending us spares!
The Worlds move to the states next year before heading to NZ, hopefully we have a few teams planning on making it to NZ for the first time.
Cheers John
Final Day disrupted by Rain and Flooded Rivers
July 9, 2011 Chevron Bridge to Whitecourt
- Single starts 1 minute apart
- Drivers meeting 8:00 am
- Race Start 9:00 am
July 9, 2011 – Whitecourt Circuits
- Mass starts
- Drivers meeting 12:00 pm
- Race Start 1:00 pm
Erring on the side of caution the organisers opted to cancel the planned legs in the interest of safety and elected to run a short 10 mile out and return on the Mcleod River, a tributary of the Athabasca River, which joins it at the Mecca of jet boating in Canada, the town of Whitecourt, Alberta.
Little changed and as far as we are aware Gord Humphry took out Unlimited and over all followed by Dale Whiteside, both driving Turbine powered boats from the Eagle Outlaw Stable.
Third place honours went to Darren Weaver driving the super quick Bratt Jet (1000 hp) piston engine entry.
New Zealand's John Derry (Current NZ1) driving a borrowed boat (off Dale Whiteside) came home third in Unlimited and 5th over all. John was the only Kiwi to make it through which is pretty impressive given there were some pretty impressive Kiwi entries entered.
As more info comes to light we will share it. For now its focus on the upcoming Waitaki Race where we will see the two NZ turbines go head to head, kept honest by a few of the locals.  This race will be the second in the Interprovincial Series which is also raced under the new Handicap system.
Word is Tony Matterson is coming out in the quick but challenging ex Pooley boat.  This hull was originally built by Tony Ward of Kwik Kraft for himself and raced with a turboed 302 Chev in it. Tony's big 573 will be something to watch.
Heavy Rain and Big waters taking their toll. 
July 8, 2011 Fort Assiniboine to Whitecourt
- Mass Starts at the bridge (up to 5/start)
- Drivers Meeting at 8:00 am at Marina
- Race Start at 9:00 am
July 8, 2011 Whitecourt Circuits
- Mass Starts, upstream
- Drivers meeting 12:00 noon
- Race Start 1:00 pm
Ok, so we are nearly into the final day, we are now the only kiwi boat running so are trying to nurse the old girl to the finish line, there has been heaps of rain today and we have been soaking wet since six in the morning until 6 pm, our first leg starting at 9 am and our last leg starting at 5.30 pm with circuit races!
Rivers are huge and in flood so tomorrow being the last day will be interesting! Gord Humphrys in his turbine has taken a good lead from Dale Whiteside then the A class boat of Darren weaver.
Think we may have lost our fourth spot today and dropped back to fifth overall after having an awful circuit race being stuck behind a heap of boats and bouncing around for 30 miles!
Still sitting 3rd in our class and two more legs to go, 48 miles down stream and then 30 miles of circuit races in the afternoon Before we enjoy lots of beer one way or the other!
John
DAY SIX
Big Shootout looming for the Canadian Turbines.
John Derry reports from Whitecourt Canada. 
We had a slow run today, had the intake come loose and fill boat with water, bilge pump failed and we were very lucky to make the finish line were we sunk, pumped all the water out then found motor fill off oil!
Have done an oil change again and hope the motor just sucked in water when it was fill! Does not look like a head gasket so finger crossed! James Murdoch is out after replacing a piston overnight only to have rockers fail today and make a mess! We are still 3rd in Unlimited and 4th or 5th overall depending on how much time we lost!
60 miles in the morning on the Athabasca River, then Circuit racing at Whitecourt, Gord still winning overall by a few minutes to Dale and then the super fast A boat of the weavers!
Good to have the kiwis that were watching the race be all hands to deck and help us out so thanks to Bonner, Steven shearing and Kirsty and Roger Preston!!
Cheers John
DAY FIVE
Well today was a motor killer for both piston and turbines, first to go was the Cromie crew who pulled out on the start line after spending the last 24 hours trying to fix a fuel issue but could not find the fault ! Mark chose to pull out rather than wreck his well prepped boat and motor, the river was a long 65 miles off the Smokey River before turning in the Wapiti River! A real drag strip with few corners!
Next to fall was Ryan Ringer in his original turbine boat who lost all the oil out of his reverser gearbox and ground to a stop and out off the event!
Rumor has it that the boat has been sold to Willie and Chad burns.
Next boat we came to was Spencer King tied up with rocker issues and due to a lack of spares the hard charging kings were out! We had a clean run and have moved up to third in unlimited and fifth overall, James Murdoch got a bit more luck today and popped a piston on the finish line and is away trying to get it fixed for tomorrow's longest leg some seventy miles!
He is sitting i'n 2 nd i'n his class and just ahead of us in 4 th overall.
Another long leg tomorrow so touch wood the big 600 will hang i'n there for us!
John
DAY THREE
Ok, today we raced up and down the Smokey River, a 50 mile run full of pressure waves, the turbines are still leading the way but Spencer King is still in touch.
Cromie ran low on fuel on the way up so had to slow down, then had some issues on way down but hopefully made it in before the cut off. James and Ross had a clean run and I think moved up to second place in A class after Paddy Statton disappeared into the trees after hitting a big rock, they were ok apart from the boat!
We are still running along ok with no major issues and keep picking up places as people fall around us! I still can't believe how fast these bloody Canadians run rapids over here, we got passed by a CX boat in a big set today!  
Day off tomorrow so hopefully a sleep in then back for four more days of racing.  Mike Hill is away rebuilding his motor and hopes to rejoin us in Grand Praire!
John


DAY TWO
So I'm guessing you all know by now the results of yesterday's Hay River, all kiwis doing well except Hill who pulled out with a noisy motor, the Hay River is long and fast with about half a mile of bad rapids apart from that a few rocks.  James ended up 3rd in A class, Cromie about 4th in Unlimited and us about 5th. Chad Burns and Ryan Ringer both had DNF's. The day was won by Spencer on his home river close follow by gord!
Day two, Peace River Circuit Race, some 600km from Hay River.
This was a great show for the small town with the river running though the middle of it on a sunny Sunday, most of the town were out to watch there local boys Chad Burns who fixed their motor overnight only for it to fail again and this time put them out for the event. I'm sure Chad will still enjoy the event from the truck but. There was a great show in A class from Darren Weaver in the new Bratt Jet 1000 hp A boat to take a clear win from Paddy Stratton in a super fast older kiwi kwik craft. James ran in a great third in his lower horse power boat. Hill came back in the X Spencer King A boat only to blow the motor bad this time and be out of the event.
Unlimited class was a great show with four turbine lining up beside me and Cromie, well let's just say the piston engines didn't fair so well with me last and mark second to last on a very bumpy Circuit race. Ryan Ringer finished first to Gord Humpfrys and Dale Whiteside with Spencer chasing them hard with some engine issues. 
Tomorrow we have a long run up and down a very high dirty smoky river which will be a big challange to the smaller lighter tunnels like I am running but be great for the longer turbines and Cromie.
Overall I'm guessing it is Gord, Spencer then Dale Whiteside.
We are way down on power and just hope to finish every leg and get a class placing when this bloody turbines break!
The kiwi spectators are having a great time on the side of the rivers watching with their chilly bins!
DAY ONE
The New Zealand team at the worlds got a big bigger this year with us deciding to use Dale's from Outlaw Eagle spare unlimited boat.
We came over to help out Gord Humpfrys in his turbine and have a holiday and after arriving to stay with Dale in Red Deer we spotted his spare boat and hatched a plan, not sure that the doctor would approve but what the hell.
We spent a couple of days getting the boat race ready and then ran it up only to have to fly wheel fall off, so back to Dales well equipped shop for repairs and then we were running in a day or so.
This is Dale's spare boat as he has also just built a great looking turbine that he plans to iron the bugs out on the marathon, he won't be the fastest boat on day one but I am sure he will get it sorted before the event is over.
Current World Champions, James and Ross Murdoch, are here set to go after changing out motors due to his big block cracking over the harsh winter months in Canada, so he has installed his little A class Ford wn major issues that I am aware of , and he has his usual large team of guys here to keep that big turbo motor ticking over.  Mike Hill, and son Justin, are running Spencer Kings old boat in A class, along with us in Unlimited.
We are at Hay river today doing tech Inspection etc, a long long, long drive from anywhere, but the town has put on a great show today for us with it being Canada Day here.
 
Racing begins tomorrow here with the first two legs before we head to Peace river.
You would have to say that Gord Humpfrys is the favorite here at the moment with Ryan Ringer, close on his heals in his Turbine Boat.
Cromie, King and Chad Burns, should all be similar speeds not far behind these guys, but the rivers are long and fast and will suit the Turbine boats very well.
 
I'm guessing the rest of us kiwis will be similar speeds so it should be a great race with some 40 odd entry's with a huge field of CX and FX boats all  running fast.
 
I will try and keep everyone updated but I'm sure I will miss the odd day as we don't even have cell coverage up here and I wont always be able to get to a computer.
Today I have run into Roger and Kirsty Preston who have a camper here to follow the race along with Bonner Anderson who just stopped into the truck for a beer.
 
Cheers John  Derry
Download the Advance Programme (444PDF)
2011 World Jet Boat River racing Championships - North West Territories and Alberta Canada

Download MS Word version (28kb) Download PDF version (48kb)
Download
July 1, 2011 – Hay River
- Show n' Shine
- Canada Day parade in am – Boats in the parade?
- Registration and Tech at Fisherman's Wharf from 12 noon to 7:00 pm
- Could do registration night before as well – consider

July 2, 2011 – Hay River to Alexander Falls – 93 miles return
- Mass Starts – 5 minutes apart
- Drivers Meeting 8:00 am (or night before at 7:00 pm)
- Race Start 9:00 am
- What about fuel at the falls? To be decided

July 2, 2011 Alexander Falls to Hay River
- Single Starts – 1 minute apart, in order of finish
- Drivers meeting 12:00 noon
- Race Start 1:00 pm

July 3, 2011 Peace River Circuit Race
- Mass Starts
- Drivers meeting 12:00 noon
- Race Start 1:00 pm

July 4, 2011 Peace River to Watino
- Mass starts
- Drivers meeting 9:00 am
- Race Start 10:00 am

July 4, 2011 Watino to Peace River
- single starts – 1 minute apart in order of finish
- Drivers meeting 1:00 pm
- Race Start 2:00 pm

July 5, 2011 – Day Off Racing

July 6, 2011 Canfor Bridge to O'Brien Park
- Single starts 1 minute apart
- Drivers meeting 9:00 am
- Race Start 10:00 am

July 7, 2011 Wapiti Gardens to O'Brien Park
- Single starts 1 minute apart
- Drivers meeting 10:00 am
- Race Start 11:00 am

July 8, 2011 Fort Assiniboine to Whitecourt
- Mass Starts at the bridge (up to 5/start)
- Drivers Meeting at 8:00 am at Marina
- Race Start at 9:00 am

July 8, 2011 Whitecourt Circuits
- Mass Starts, upstream
- Drivers meeting 12:00 noon
- Race Start 1:00 pm

July 9, 2011 Chevron Bridge to Whitecourt
- Single starts 1 minute apart
- Drivers meeting 8:00 am
- Race Start 9:00 am

July 9, 2011 – Whitecourt Circuits
- Mass starts
- Drivers meeting 12:00 pm
- Race Start 1:00 pm

July 9, 2011 – Awards Banquet
- Drinks 6:00 pm
- Dinner 7:00 pm